From the February 2004 screening at the Schomburg Center in New York: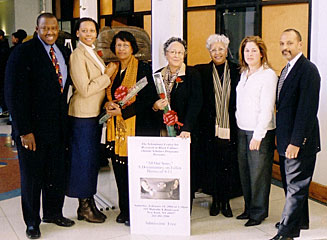 Craig Kelly, Ruth Powell, Irene Smith and Maria Mojica and friends.
Press about All Our Sons:
All Our Sons


Heroism is and should be colorblind, but this sensitive and beautifully crafted 28-minute documentary offers a startling tribute to 12 forgotten heroes: African-American New York firefighers who perished in the World Trade Center on 9/11. Blessed with graceful narration by Alfre Woodard, the film visits the families of seven of the 12, who relate intimate and often heartbereaking recollections that are both inspiring and tragic. Offering individual portraits of courage and valor, the film also touches on a contentious issue that continues to plague the fire departments in both New York and other major cities: the conspicuous lack of non-white firefighters. In New York, the demographic makeup of the FDNY ( which is at least 95 per cent white male) bears no resemblance to the city's racial mix and also has a nasty history of refusing all attempts to boost minority recruitment. The firefighters memorialized here are well-deserving of the recognition bestowed in this moving short documentary. Highly recommended. (P. Hall)
-- Video Librarian November-December 2005
Sensitive and beautifully crafted...highly recommended.
-- Video Librarian

NPR : 'All Our Sons': 9-11's Black Firemen Remembered
Fallen Black 9/11 Firemen Paid Tribute In Film
---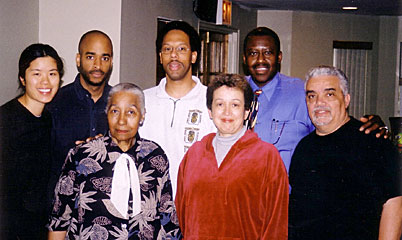 The crew of All Our Sons with Fannie Cherry, mother of Vernon Cherry.
Lillian Benson, Joe Staton, (2nd row) Shannon Gee, Booker T. Mattison, Paul Washington, Vulcan Society, and Craig Kelly.